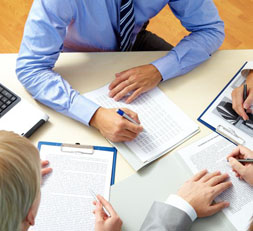 We are a marketing and sales company for warehouses (third-party providers) having operations in the United States, Canada, Mexico and Puerto Rico. The warehouse facilities we represent, our clients, pay us to market and sell their warehousing services. One of our primary functions is to give our clients the opportunity to quote on your business. We have been in business since 1953.
Why You Should Use Our Service
Our Primary function is to assist you in your warehousing and distribution needs. We will provide you with honest, factual and accurate information on all aspects of public warehousing, at no cost or obligation to you. In addition to assisting you in gathering rates  and data on public warehousing, we stand ready to be YOUR TOTAL RESOURCE ON  PUBLIC WAREHOUSING, including site selection, warehousing law, insurance to transportation studies. If you are interested, we have clients that specialize in contract and build-to-suit warehouse operations. If you have a need where we don't have a client, we will gladly recommend an operator to you.
Our website lists our public warehouse clients in the United States, Canada, Mexico and Puerto Rico, and our technical paper "SELECTING A PUBLIC WAREHOUSE AS YOUR THIRD-PARTY PROVIDER" are available free of charge by contacting any of our offices or by e-mail.
You Should Consider Our Public Warehousing Clients for Your Warehousing and Distribution Needs.
When you are searching for warehousing or distribution services you should contact two or more operators for your business. We can assure you the quality of our clients entitles them to be considered by you for your needs. They, and we, will thank you for considering them for your valued business.
If You Call, Fax or Email Our Clients Directly, Let Them Know You Used the Affiliated Warehouse Companies' Web Page.
It costs you no more to use a client of Affiliated Warehouse Companies. You will find their charges competitive.
Public Warehouses are Third-Party Logistic Companies!
New Terminology has impacted warehousing and distribution which includes outsourcing, third-party providers and third-party logistic companies. Don't let these new terms confuse you. Public warehouses have always been third-party providers and shippers have been outsourcing their warehousing requirements to public warehouses for many, many years. In addition, public warehouses have been among the innovators of value added services to the extent the services now offered often exceed warehousing.
Public warehouses in the United States are required by law, Article 7 of the Uniform Commercial Code, to take the same care of goods as a prudent owner would. To guarantee performance most public warehouses carry warehouse legal liability insurance for your protection against negligence.