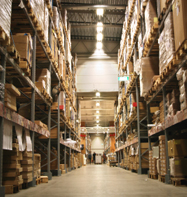 Find the ideal setting to store your products with no hassle or stress. Affiliated Warehouse Companies saves you time by consolidating the most reputable and versatile public warehousing services in one place. We'll take care of the details so you can store your merchandise with complete peace of mind. Our storage partners maintain a variety of environments including dry, cooler/freezer warehouses and Hazmat warehouses to secure any materials you may have.
Find a Warehouse
Whether you are storing access production, saving materials for upcoming projects, moving items between locations or something else, we help you find a safe and controlled environment best fitted to your needs. Our warehousing services span North America, with more than 130 cities across three countries ready to secure your products. We'll work with the logistical, volume, temperature and legal requirements of your goods to ensure you receive the best price for your inventory storage.
Contact us today to find out more about our international public warehousing services or to receive a free rate quote.