Beverage and Food Warehousing Services
Affiliated Warehouse Companies is renowned for being a reliable partner in the storage and distribution of your valuable products. With a wide network of reputable public warehouses and contract warehouses across the United States, Canada, Mexico, and Puerto Rico, we are here to cater to your specific needs.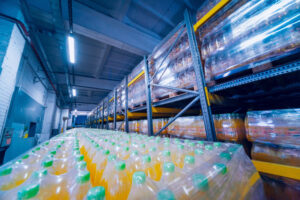 Expertise in Warehousing Solutions
Our primary objective is to simplify the process of finding the perfect warehousing solution for your business. We understand the challenges of searching for the right warehouse that meets your requirements and offers the necessary services. That's why we leverage our expertise and established relationships with our public warehouse clients to provide you with quotes at absolutely no cost or obligation. By doing so, we save you countless hours of search time and reduce any unnecessary hassle.
A Variety of Warehousing Options for the Food and Beverage Industry
We take pride in offering a diverse range of warehousing options to accommodate the unique needs of the food and beverage industry. Our network of public warehouses includes facilities equipped with dry storage, air-conditioned spaces, coolers, freezers, and even chemical HazMat storage and services. Whatever your specific storage and handling needs may be, we have the right solution within our vast network.
AIB, SQF and BIC Certifications
When it comes to the quality and safety of your products, we leave no stone unturned. That's why we partner with public warehouses and contract warehouses that hold certifications from reputable organizations such as AIB, SQF, and BIC. These certifications validate the adherence to strict industry standards, ensuring that your food and beverage products are stored, handled, and distributed with the utmost care and compliance.
The AIB (American Institute of Baking) certification signifies excellence in food safety and sanitation practices. It assures you that the warehouse facilities meet stringent standards to prevent contamination and maintain hygiene throughout the storage process.
The SQF (Safe Quality Food) certification further demonstrates our commitment to the highest standards of food safety and quality. It ensures that our partner warehouses implement comprehensive food safety management systems and undergo regular audits to guarantee compliance.
Lastly, the BIC (Bonded and Insured Warehouse Certificate) certification provides an additional layer of assurance by ensuring that our partner warehouses have met the necessary requirements for bonded and insured storage facilities.
Contact Us for Your Warehousing Needs
If you're seeking a reliable, efficient, and certified warehousing solution for your food and beverage products, look no further. Affiliated Warehouse Companies is here to match you with the perfect warehouse from our extensive network of public warehouses and contract warehouses. Contact us today for a free quote.
Get An Online Quote