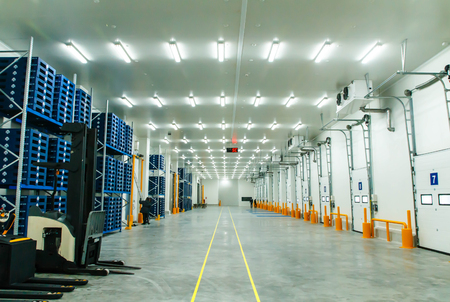 Some products, like food or pharmaceutical drugs, need to be kept cold in order to protect their quality and effectiveness. What are some tips for running a cold storage warehouse?
Right Temperature Settings
For starters, it's important to maintain an adequate temperature for your products. To do so, make sure you have the correct insulation thickness and "cold room" doors that keep heat out as much as possible.
Cold-Proof Equipment
Next, use cold-proof equipment that's designed to work in low temperatures. For example, if you use a touch screen in a cold room, make sure it relies on pressure rather than heat to work properly. If you use forklifts or scanners, you'll want to avoid condensation, right? Seal any and all tools up so they don't experience condensation.
The Right Automation System
Thirdly, cold rooms do well when an automation system is in place to create an efficient freezer operating system. Some warehouses utilize reliable stacker cranes or robotic pallet shuttles for storing/retrieving items– this can help reduce human error while also improving efficiency.
Meticulous Record Keeping
Meanwhile, keep records updated such that you can easily check daily room temperatures to make sure products are being stored properly. It's important to document the temperature daily. It's also a good idea to install an alarm that alerts workers if and when an unauthorized entry is occurring.
Select the Right Doors
Finally, choose the best cold room doors for your warehouse, whether they're sliding doors, hinged doors, high-speed doors or some other kind of door. Basically, you want to make sure doors open and close as efficiently as possible, keeping as much cold air in the room as possible.
Looking for cold storage warehouses in North America but having a hard time finding what you want? Affiliated Warehouse Companies can help you with your search! Please call 732-739-2323 and talk to an expert who can help you find the best cold storage warehouse to meet your specific needs.