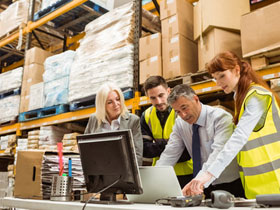 The world is becoming more and more connected, and warehousing has never been more important, especially because of the rise of e-commerce.
Technology
In order to succeed and thrive, today's warehouses should be using technology that allows real-time data management while also optimizing their supply chain(s). Warehousing involves storing, finding and distributing physical goods. Smart warehousing is integrated and managed in such a way that logistics processes are simple, fast and better than in the past. Because of increased competition, warehouse management must focus on operational excellence and always improving processes. Staff need to be trained and monitored. Inventory needs to be documented, tracked and easily located. Warehouses want to strive to be more efficient. They need to lower costs while also providing more timely shipments.
Satisfied Customers
In the end, what truly matters most? The answer is satisfied customers! If a warehouse is doing its job right, customers will be satisfied in such a way that they'll be happy to order again and again– helping boost profits of the company or companies involved in selling whatever they're selling to end users.
Our world pretty much runs on computers. Warehouses often use software to manage operations and inventory movements. Manual processes are becoming rare– or eliminated all together– thanks to computers and machines. Augmented reality is being used to help transform warehouse processes in some cases.
Connectivity
What does today's world thrive on? Connectivity. Modern technology makes connectivity possible, such that a person can place an e-commerce order on their phone in Buffalo, New York, for instance, and the warehouse will get it instantly, and ship the item out to them so they get the product in a day or two (or sometimes even sooner). What used to take weeks now takes days or even hours. Same day shipments are popular and people like that aspect– they want their stuff to arrive quickly.
Warehouses play a vital role in the relationship between businesses and consumers.