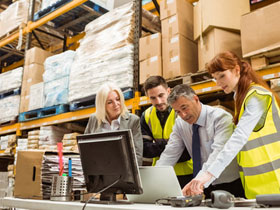 If you're in charge of a business, you know how complicated it can be to run one. That said, thankfully there are third-party logistics companies to help you. What are some reasons for your business to partner with a third-party logistics company when it comes to issues such as warehousing? There are plenty!
Customer Service
Customer service is paramount. If you don't serve the customers well, you lose them. Therefore, working with a third-party logistics company can help ease your burden when it comes to customer service. For example, if you need help with pricing, billing, figuring out equipment needed to move products, keeping track of shipments and checking with customers to see whether or not they're satisfied, a third-party logistics company can expertly handle that part of your business for you.
Innovative Techniques
Your business knows a lot, but it doesn't know everything. Partnering with a third-party logistics company is a good way to discover areas of innovation and improvement that can be worked on, as well as gain access to cutting-edge technology that you might not have even considered on your own.
Flexibility
One of the nice things about third-party logistic companies is that they bring flexibility to the table– they can adapt to your business' changing needs over time. They're also able to use their knowledge and expertise to help your business save time and money thanks to the use of management software, networking connections and established relationships within your industry.
Quality Assurance
When quality assurance matters, and your business wants to improve, becoming more efficient and effective, it makes sense to reach out to qualified third-party logistics companies to help you achieve your very doable goals.
Do you have warehousing needs but not sure where to look for the right space to meet your needs? Affiliated Warehouse Companies can help– just call 888-865-1150 for more information.